Thanks for visiting Merton Hockey Club, we're a South London based hockey club that welcomes both social and competitive hockey players to join us for some winter sporting activity and of course a hearty tea and laugh afterwards.
Merton Juniors make good use of lockdown!
Memories from the past
Thank you to Bernard from NSW in Australia who found this piece of Merton Hockey Club history when going through old photos. The gentleman with the tie in the middle of the back row is his grandfather, Bertram Bullen, who lived and played hockey in the Merseyside area prior to emigrating to Australia around 1915. Bernard's aunt recalled that he was umpiring on this particular day when Merton were touring Wallasey which is near Liverpool. When he moved to Australia he continued to umpire there.
How amazing that modern technology has allowed Bernard to share this wonderful picture from the past with us.
Social distancing does not stop awards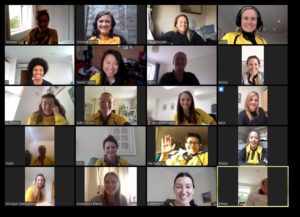 Unruffled by the current Coronavirus pandemic, Merton Ladies managed to have an awards ceremony complete with warm up and kit on :).
Training dates for 2020/21 (new players, come along)
TBC
Juniors
Our growing and friendly juniors section for girls and boys 6-16yrs practice on Tuesday evenings 6-8pm at Colliers Wood Rec SW19 2NT and Saturday mornings 9.30-10.45am at Harris Academy Morden SM4 6DU, with matches on Sundays – CURRENTLY ON HOLD
New Players
We're always looking for new players so if you're keen to join just drop us an email at info@mertonhockey.co.uk and we'll get back to you.
Welfare
Officer

Details

Hannah Easton

Welfare Officer/ Club Secretary

07849 096277